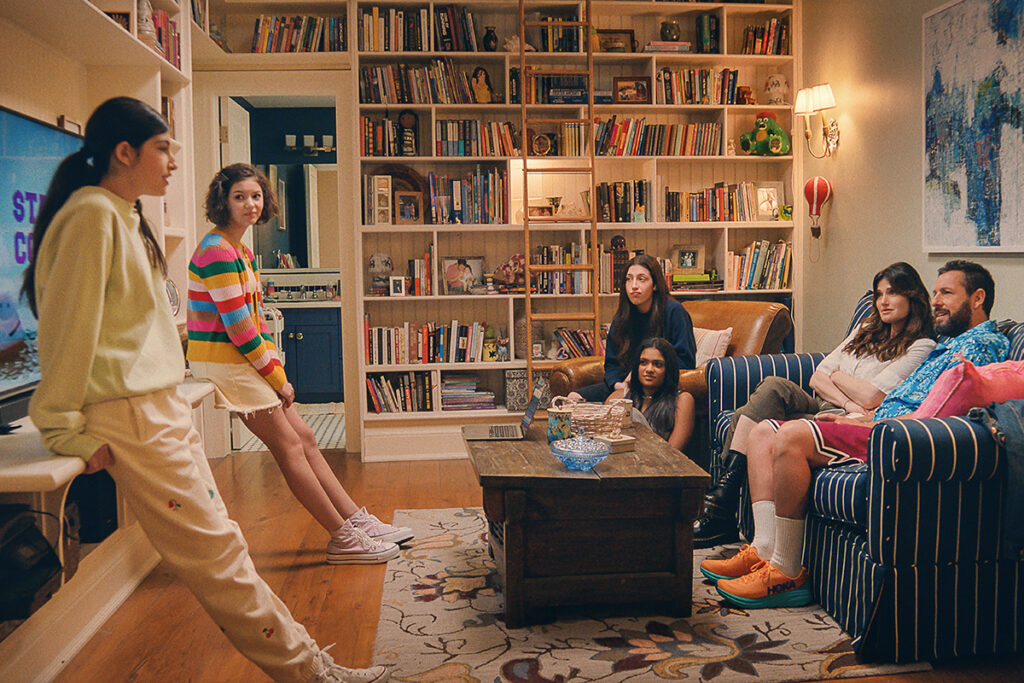 We finally have a release date for Adam Sandler's upcoming Netflix movie "You Are SO Not Invited to my Bat Mitzvah" — and some very exciting first photos.
If you haven't heard the good word yet, yes, Adam Sandler is making a bat mitzvah movie for Netflix. I repeat, Adam Sandler is making a bat mitzvah movie and playing a Jewish dad opposite "Uncut Gems" co-star and Jewish mom extraordinare Idina Menzel.
And if that wasn't enough (DAYENU!), the movie, which is based on the most excellent 2008 middle grade novel "You Are So NOT Invited to My Bat Mitzvah" (which my colleague Evelyn Frick called "a masterpiece of its time"), it also stars Sandler's daughter Sunny as movie heroine Stacy Friedman, his wife Jackie, and Jewish "Saturday Night Live" cast member Sarah Sherman, to name but a glorious few.
For those of you who keep calendars, I urge you to put a big old star on August 25, 2023, when the movie's release date is set. It'll make for a lovely late summer family movie night (maybe even an outdoor screening if you're fancy!). We suggest including a post-screening hora.
In the first image above, we get a glimpse of the Friedman home. You can see Sunny as Stacy, with Lydia Katz (Samatha Lorraine), her frenemy, standing in front of her parents, Bree (Menzel) and Danny (Sandler), the former donning some badass Doc Martens, while the latter is in his Jewish dad uniform of basketball shorts and Hokas. Sitting along with them is Stacy's sister Ronnie (in the book, she has a brother) and her friend Zara (Zaara Kuttemperoor). Their house is brimming with books, cute trinkets and crafts, including an alarmingly adorable green monster and many great family photos.
The second photo, which you can see above, shows Andy Goldfarb (Dylan Hoffman), Stacy's big time crush, donning a kippah, chatting with a rapt Lydia as a contemptuous Stacy looks on. It takes place in a classroom at a Jewish day school, where discerning eyes can spot some hamsa decorations and a few copies of the "Graphic Novel Haggadah." The educational posters and the neon decor are very transporting.
The movie has some really delightful Jewish clergy representation (we really have a lot to look forward to in that department!). SNL, "Bubkis" and "Sandy Wexler" writer Dan Bulla will play Cantor Jerry, while Sarah Sherman will play Rabbi Rebecca, gender swapping the book's male rabbi.
Of course, no real bat mitzvah movie is complete without a DJ. Actor Ido Mosseri will play DJ Schmuley. You may know him as Oori in "Don't Mess with the Zohan" and Yuri from "Sandy Wexler." I personally adore him for his many comedic roles in Israeli shows, including Ben-Gurion in "The Jews Are Coming," and as the brother of iconic Israeli kids TV host Tal Mosseri.
Jackie Sandler, the mama of the Sandler clan, will play Gabi Rodriguez Katz, Lydia's mom. Other incredible cast members include Jewish legend of screen and stage Jackie Hoffman, Luis Guzmán, Dean Scott Vasquez ("In The Heights") and Miya Cech ("The Darkest Minds"). There's also an exciting cast of newcomers who play fellow teens.
Alison Peck ("Work It") has written the screenplay based on the book by Fiona Rosenbloom — the pen name for author Amanda Stern. This movie is directed by Sammi Cohen, and it will be her second feature length film, following the 2022 queer teen Hulu film "Crush," where the filmmaker proved she can make exciting, funny and relatable coming-of-age tales.
And if that's not enough (did I already say dayenu??) the movie will also be scored by Este Haim — of HAIM sister band fame — and Amanda Yamate. What. A. Team.
The movie was shot in Canada last summer, and one of its locations was the beautiful Beth Tzedec synagogue in Toronto. You've gotta love a location synagogue shoot!
Morning prayers at my friend @Ravbaruch' synagogue before breakfast together. Beth Tzedec looks more like a film studio than a house of worship as @AdamSandler & @SarahKSilverman are filming there 'You are SO not invited to my bat mitzvah'. Can't wait to see it! pic.twitter.com/Lf9nxTP0ys

— Richard Marceau (@richardmarceau) July 13, 2022
For those hoping to revisit the book ahead of the movie, we have some bittersweet news. "You Are SO Not Invited to My Bat Mitzvah" is not currently in print… but a new printing is coming out on July 25, a month ahead of the film's release.
We can't believe that Netflix is giving us a bar/bat mitzvah movie two summers in a row (is it time for another dayenu?) and we're so excited for the release of "You Are SO Not Invited to My Bat Mitzvah." You are SO very invited to kvell with us about it.
The post The Adam Sandler Bat Mitzvah Movie Is Coming to Netflix Soon appeared first on Kveller.
This content was originally published here.