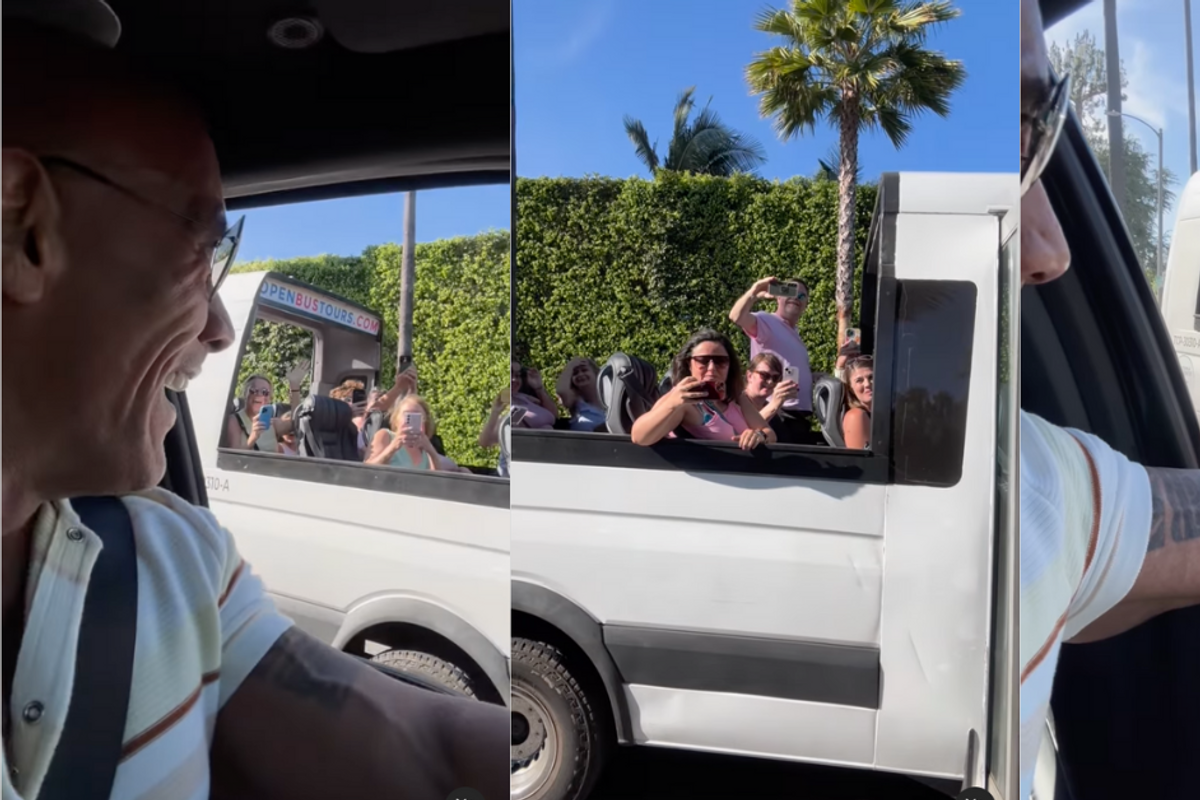 Actor and former professional wrestler Dwayne "The Rock" Johnson surprised a group of delighted fans after their celebrity tour bus pulled up alongside his truck in Los Angeles.
The actor spotted a tour bus filled with visitors exploring movie star homes in the area and decided to make their day by offering them a real-life celebrity encounter.
Johnson shared the heartwarming encounter on his Instagram account, capturing the moment from inside his car. In the video, the tour bus pulled up alongside Johnson's vehicle, and the actor warmly greeted the excited passengers.
In his Instagram caption, Johnson described himself as "a big kid" who loves to see smiles on "my people's faces."
You can see his post below.
As he pulled up, Johnson joked about having the group visit his property and said:
"How are you guys doing? Are you guys doing good? Did you guys go to my house yet?"
When the group responded that they hadn't, he replied:
"OK, good, keep it that way! Have fun!"
Recognizing that some of the passengers wanted to take photos with him, Johnson graciously agreed to pose for pictures, even going so far as to request that the bus driver reverse the vehicle to ensure the passengers could capture the best shots. With his characteristic sense of humor, he teased them about fitting his "big head" into their photos.
After making the tourists' day with the surprise encounter and photos, Johnson drove away and spoke to the camera, expressing his enjoyment of these spontaneous interactions with fans:
"That was fun, the kind of stuff is some of the best parts of fame right there. Making their day. And free s**t, getting free s**t."
He posted a similar video in August, stating that he loves "surprising the heck outta people!!"
People loved every minute of it.
— (@)
— (@)
— (@)
— (@)
— (@)
— (@)
— (@)
Johnson's encounter with the celebrity tour bus is just one example of his kindness and the genuine connection he has been celebrated for by his fans.
In October 2022, he delighted fans during an event for his film Black Adam when he held a fan's baby daughter and introduced her to the audience.
In 2016, he surprised a fan by visiting him at a Georgia hospital, brightening the young man's day with his unexpected visit.
These days, the actor has received high praise for backing the ongoing joint SAG-AFTRA and Writer's Guild strike. In July, he made a "historic" seven-figure donation to SAG-AFTRA, which the organization confirmed is "the largest total contribution received from an individual donor in the union's nearly 40-year history."
This content was originally published here.