Tottenham have parted company Antonio Conte after the Italian slammed his players as "selfish" after last Saturday's 3-3 draw with Southampton.
Spurs say that Conte's assistant Cristian Stellini will be acting head coach for the rest of the season, with Ryan Mason assistant head coach.
Conte departs Tottenham after 16 months in charge following an extraordinary rant against his players after they threw away a 3-1 lead at rock-bottom Southampton to cap a miserable March for the club.
It saw them dumped out of both the FA Cup and the Champions League to leave them without a trophy for another season stretching back to 2008.
Daniel Levy said in a statement: "We have 10 Premier League games remaining and we have a fight on our hands for a Champions League place. We all need to pull together. Everyone has to step up to ensure the highest possible finish for our club and amazing, loyal supporters."
Conte, whose contract was set to expire at the end of the season, told Sky Sports after the 3-3 draw last Saturday: "I'm not used to seeing this type of situation. I see a lot of selfish players and I don't see a team."
He added in his post-match press conference: "We are 11 players that go into the pitch. I see selfish players, I see players that don't want to help each other and don't put their heart [in]."
Asked to explain Tottenham's collapse at Southampton, Conte continued: "Because they are used to it here, they are used to it. They don't play for something important.
"They don't want to play under pressure, they don't want to play under stress. It is easy in this way. Tottenham's story is this.
"Twenty years there is the owner and they never won something – but why? The fault is only for the club, or for every manager that stay here."
Spurs' battle for top four – current Premier League standings
'It was a case of if, not when, Conte left' | 'A surprise Stellini is staying at Spurs'
Sky Sports News reporter Michael Bridge:
"I think, after the post-match press conference (at Southampton), it was a matter of when, not if, Conte was to leave Tottenham.
"We reported all last week about the situation, we knew he was back in Italy and we reported first the news that Stellini was going to take training, which was a bit of an eye-opener – and this news that he is staying until the end of the season is a bit of a surprise as well.
"One of the big issues has to be that he didn't seem to want to sign a new deal and that deal ran until the end of the season. I, and other colleagues of mine, would ask him week after week about signing a new deal and he wouldn't really want to talk about it; he'd say this was something they'd discuss at the end of the season.
"When you're at a club like Spurs and players are thinking about the managers' future, it just didn't seem right and I think that played a part as well.
"It was a real sliding doors moment at Southampton. They were seconds away from going third, then they gave a penalty away in the last minute and that unbelievable post-match press conference followed. We've heard it every day since and now we get the news that he is no longer at the club.
"It was quite a short statement as well, with no massive thanks from Daniel Levy, but he mentions there are 10 games to go and they are fourth at the moment. This is such a huge point in the season – how big would it be if Newcastle pipped them to fourth, in terms of FFP and finances? Spurs have to go to Newcastle, Liverpool and Manchester United in those final 10 games.
"People have said it's taken a long time but there are legal and financial issues to sort out with Conte, but Spurs fans now have clarity."
Stellini's record in charge of Spurs this season: Impressive wins in CL and vs rivals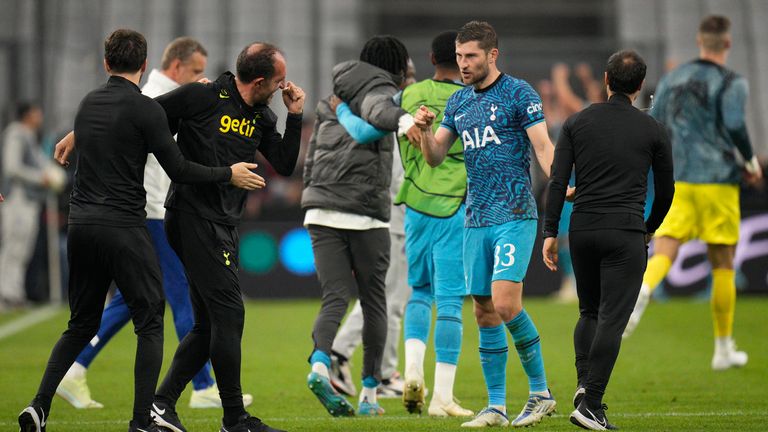 Stellini has experience of leading this Spurs side this season, stepping in for Conte when he was suspended for the crucial final Champions League group stage win at Marseille, and then securing standout wins over Manchester City and London rivals West Ham and Chelsea in the Premier League.
"Stellini is very popular with the players and has won games in interim charge before, but this is different now," said Bridge. "When you spoke to him, he would always say that Conte picked the team, he sometimes did the team talks on FaceTime, but that's not going to happen anymore.
"Stellini can have his own formation and the way he wants to work, so it's going to be a really interesting week ahead. It's quite a surprise he's still there as well. He has got visions of being a manager in the long run as well."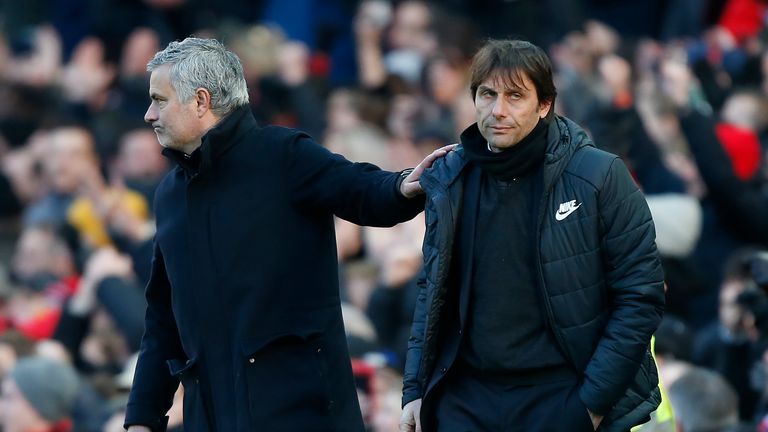 It's happened again. Daniel Levy has twisted the knife on yet another Tottenham manager – the fourth time in four years for the Spurs chairman.
Antonio Conte has joined Mauricio Pochettino, Jose Mourinho and Nuno Espirito Santo on the list of managers who have tried and failed to bring Glory, Glory to Tottenham Hotspur.
And for the second time in 23 months, a caretaker will take them to the end of the season. In 2021 it was Ryan Mason, this time the former Spurs midfielder will act as assistant to Conte's former assistant Cristian Stellini.
It all feels a bit too familiar for Tottenham supporters. So has Levy taken Spurs back to square one by repeating what he did two years ago? In fact, you could copy the entire Mourinho scenario and paste it into this season…
Merson: Spurs plan flawed – Conte rant proves it
Sky Sports' Paul Merson, speaking after Spurs' 3-3 draw with Southampton on March 18:
"This has been waiting to happen. It's not spur of the moment. It's a build-up and Antonio Conte has exploded. He's had enough. You've got to say the blame lies with the manager because of the way he sets up.
"There are only seven teams in the league who have conceded more goals and they play a back three, with two holding midfielders. That shouldn't happen. The idea of playing three at the back is to make you more solid.
"If I'm a Tottenham fan I'm thinking we've got one of the best strikers in world football in Harry Kane, two wingers in Heung-Min Son and Dejan Kulusevski who were unplayable last season, you have to play to their strengths.
"Those two are shadows of the players they were – that's got to be down to the manager. Richarlison never gets a game. The plan is flawed. They set up not to lose, rather than setting up to win games of football.
"You can't have that, what just happened. That rant should happen in the dressing room, not in front of the world. This is what happens in management – emotions run high. He isn't fussed if he gets the sack so he can say what he wants."
Tottenham have a 24 per cent chance of finishing in the Premier League's top four this season, according to Opta.
Spurs are predicted to finish in sixth place at the end of the season, with just a 23.9 per cent chance of finishing in the top four.
Ahead of Newcastle's win at Nottingham Forest, after which Jamie Carragher had warned that Manchester United were being dragged back into the top-four battle, Spurs' chance of taking a top-four berth had been rated as high as 31%.
But following a torrid weekend, in which Spurs let a two-goal lead slip late on at Southampton to draw 3-3 to spark an extraordinary outburst from then manager Conte, Opta now calculate that the two teams below them in the table – Newcastle and Liverpool – both have a higher chance of securing a spot at Europe's top table this season, due to the two games in hand they have over Spurs.
April 3: Everton (A) – Premier League, kick-off 8pm, live on Sky Sports
April 8: Brighton (H) – Premier League, kick-off 3pm
April 15: Bournemouth (H) – Premier League, kick-off 3pm
April 23: Newcastle (A) – Premier League, kick-off 2pm, live on Sky Sports
April 27: Man Utd (H) – Premier League, kick-off 8.15pm
April 30: Liverpool (A) – Premier League, kick-off 4.30pm, live on Sky Sports
May 6: Crystal Palace (H) – Premier League, kick-off 3pm
May 13: Aston Villa (A) – Premier League, kick-off 3pm
May 20: Brentford (H) – Premier League, kick-off 3pm
May 28: Leeds (A) – Premier League, kick off 3pm
This content was originally published here.