When Tottenham announced Antonio Conte's protracted exit from the North London club had been been completed on Sunday night, there was a surprise in their statement.
It was not that there was no mention of any thanks directed in the Italian's direction, but instead the fact Cristian Stellini – his assistant and countryman – was to remain at the club and lead them for the rest of the season as interim head coach, with Ryan Mason as his assistant.
Conte's departure brings the latest collaboration between the pair to an end after 16 months. But, with the occasional break, Conte and Stellini have also been in a working relationship for the last 20 years.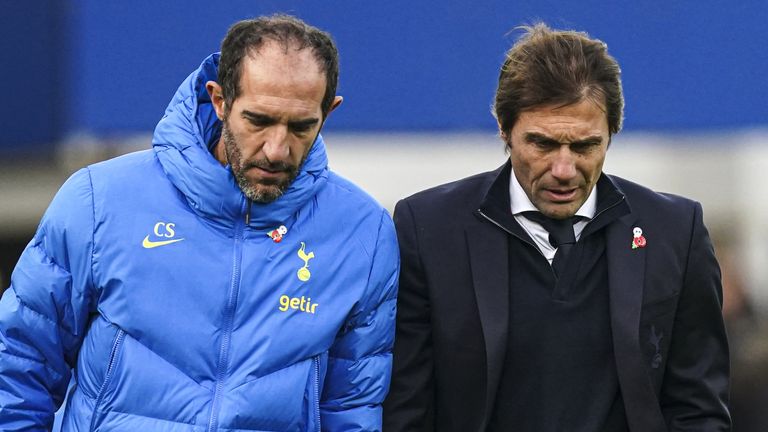 The pair first crossed paths on a professional level at Juventus in 2003. Stellini joined I Bianconeri from Como that summer, but was restricted to just two appearances through injury; Conte – five years his senior – was in the final year of his near two-decade-long playing career.
Stellini then worked as a player under Conte between 2007 and 2009 at Bari and took on his first assistant role shortly after retirement when Conte took over at Siena in 2010. He followed him to Juve the following summer, too, taking up the same position.
However, he resigned after 13 months in Turin after being handed a two-and-a-half-year ban following allegations of match fixing, which he passionately refuted.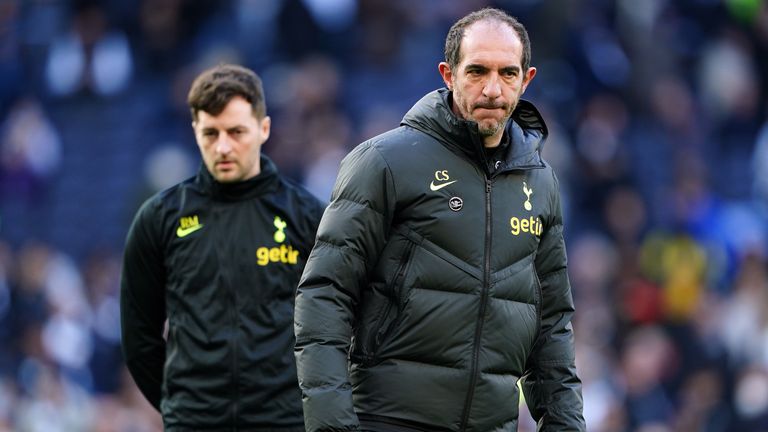 "The events of the last month have deeply affected me," Stellini said in a statement at the time. "In a short space of time I went from member of the technical staff of the champions of Italy to a cause of turmoil for those I worked with.
"Whatever the evolution of the legal situation I am in, I feel it is only right to show a professional attitude and release this weight from Juventus which fell on to the club's shoulders due to my time elsewhere in my career.
"I think it is right to dedicate all my time and efforts to clearing my position in these matters, which are exclusively about me and not those I simply shared a locker room with. I therefore tend my irrevocable resignation as technical assistant at Juventus."
Stellini returned to football as a youth coach at Genoa from 2015 to 2017 and then took on his first job as a head coach in his own right at Serie C club Alessandria, though his two-year contract was terminated in November, after less than six months.
He joined Inter Milan as Conte's assistant in 2019 and took charge of the team when Conte was serving a three-game touchline ban in 2020/21, guiding them to victory in each.
So when Stellini was thrust into the spotlight on several occasions this season, filling in for Conte, he was very well-versed.
The first occasion came in a 2-1 Champions League win over Marseille in November, when Conte was forced to serve a touchline ban, the second was a 1-0 win over Manchester City in the Premier League on February 5, after it was announced the Spurs head coach would remain in Italy.
He also oversaw wins over West Ham and Chelsea, to boot.
Stellini's previous games in charge
But any suggestion that he was enjoying the experience was quickly refuted when he spoke to Sky Sports in an exclusive interview in February.
This was a case of holding the fort, nothing more.
"My feeling is not to enjoy this; my feeling is to be responsible," he said at Tottenham's Hotspur Way training complex.
"I feel the pressure. It's a moment that I need to grow as a coach and when you have to take important decisions, you have to feel responsible.
"It's not about me, it's about the club, the fans, the players, our jobs, our lives. It's much more important than my feelings."
It was most certainly a welcome bonus that he had a direct line to Conte, who was staying abreast of team matters as he took time to recuperate at his family home, albeit halfway across Europe.
"We speak many times a day, but when Antonio is far from his job, he's not happy," Stellini added.
So how did the players respond to Stellini stepping up to take charge?
"They are focused," he explained. "In this aspect I feel very good and comfortable because when I look the players in the eyes, I feel they are taking more responsibility because Antonio is not here.
"They also take care of me because my relationship with them is special, like every assistant manager needs. I can feel that the players want to do it also because they like when we work together.
"It's strange [to step up] because it's a different job. It was really strange to be in charge for one game [vs Marseille], but I had the coach with me. Now it's different because the coach is not here, but I feel Antonio's presence with me.
"I want to say clearly, I'm not alone. We are in charge together, we organise everything together and with all the staff."
Now Conte and gone and he is the main man Spurs are looking at to change their fortunes in what remains of the season. But if his previous record is anything to go by, there is little reason to be fearful.
'It was a case of if, not when, Conte left' | 'A surprise Stellini is staying at Spurs'
Sky Sports News reporter Michael Bridge:
"I think, after the post-match press conference [at Southampton], it was a matter of when, not if, Conte was to leave Tottenham.
"We reported all last week about the situation, we knew he was back in Italy and we reported first the news that Stellini was going to take training, which was a bit of an eye-opener – and this news that he is staying until the end of the season is a bit of a surprise as well.
"One of the big issues has to be that Conte didn't seem to want to sign a new deal and that deal ran until the end of the season. I, and other colleagues of mine, would ask him week after week about signing a new deal and he wouldn't really want to talk about it; he'd say this was something they'd discuss at the end of the season.
"It was a real sliding doors moment at Southampton. They were seconds away from going third, then they gave a penalty away in the last minute and that unbelievable post-match press conference followed. We've heard it every day since and now we get the news that he is no longer at the club.
"It was quite a short statement as well, with no massive thanks from Daniel Levy, but he mentions there are 10 games to go and they are fourth at the moment. This is such a huge point in the season – how big would it be if Newcastle pipped them to fourth, in terms of FFP and finances? Spurs have to go to Newcastle and Liverpool as well as play Manchester United in those final 10 games.
"Stellini is very popular with the players and has won games in interim charge before, but this is different now. When you spoke to him, he would always say that Conte picked the team, he sometimes did the team talks on FaceTime, but that's not going to happen anymore.
"Stellini can have his own formation and the way he wants to work, so it's going to be a really interesting week ahead. It's quite a surprise he's still there as well. He has got visions of being a manager in the long run as well."
"People have said it's taken a long time but there are legal and financial issues to sort out with Conte, but Spurs fans now have clarity."
Spurs' battle for top four – current Premier League standings
April 3: Everton (A) – Premier League, kick-off 8pm, live on Sky Sports
April 8: Brighton (H) – Premier League, kick-off 3pm
April 15: Bournemouth (H) – Premier League, kick-off 3pm
April 23: Newcastle (A) – Premier League, kick-off 2pm, live on Sky Sports
April 27: Man Utd (H) – Premier League, kick-off 8.15pm
April 30: Liverpool (A) – Premier League, kick-off 4.30pm, live on Sky Sports
May 6: Crystal Palace (H) – Premier League, kick-off 3pm
May 13: Aston Villa (A) – Premier League, kick-off 3pm
May 20: Brentford (H) – Premier League, kick-off 3pm
May 28: Leeds (A) – Premier League, kick off 3pm
This content was originally published here.