The Aston Villa coach is almost out of the door when he turns around with a smile to clarify one important point at the end of the interview. Unai Emery, the player, he insists, would never have featured under him. Sent out on loan, he jokes.
The conversation had begun by discussing the young Emery, a talented wide player at Real Sociedad whose progress was stifled by injury. "I was intelligent with good skill in my left foot but there was an infection in my knee after surgery," he tells Sky Sports.
"I lost two years at 20. That reduced my capacity. I had been a 10 or 11. I finished my career playing as a 3 because I did not have the power in my legs one against one. When the right-back was strong and more aggressive than me, I was a little bit scared."

Saturday 1st April 5:00pm


Kick off 5:30pm

Scared, perhaps. But mentally tough. "I played on for 10 years and was very competitive, very proud. I was a bit of a machine as a player. It was my work. I had a family. I needed to get another contract. As a coach, I use my experiences as a player a lot."
That is the reason for this avenue of conversation. It is an attempt to understand how it came to pass that this willowy winger should develop into arguably the most detailed coach in the Premier League, a man regarded by all who know him as a football obsessive.
Emery, now 51, has a theory on that.
"I grew up thinking that the coaches did not help me to be better with my weaknesses as a player. I started coaching 19 years ago and always I have to remember when I was a player. Why? Because I want to coach them how I would like to have been coached."
The impact on Aston Villa's players is undeniable.
With six goals in eight games, Ollie Watkins is in the form of his career. Douglas Luiz and Boubacar Kamara are emerging as a top-class midfield partnership. In defence, Tyrone Mings and Ezri Konsa look solid again, conceding only once in the last four matches.
The result is that a team that had been out of the bottom three on goals scored when Steven Gerrard was sacked in October are now as close to fourth as twelfth. Nine teams are in the relegation mix but Emery's Villa, with six wins already in 2023, are not among them.
He has found a group eager to learn, aching for instruction. That has helped. Some coaches believe that restricting their input to a few simple messages is the best way. Emery has found a receptive audience for a much greater volume of information.
"I am adding details every day," he explains.
"Maybe John McGinn can do a different movement, maybe he can drop more. I am trying to learn and then to tell them. In the end, their skill and their mentality is what matters. They are the ones who have to play. But I want to help give them the details."
What they say about Emery
"Such an impressive attention to detail." – Tyrone Mings
"So tactically good." – Matty Cash
"Every single player knows exactly what they need to do." – Leon Bailey
"Small tactical details." – Ollie Watkins
"It is incredible how he works on every detail." – Emi Buendia
"That attention to detail is key." – Ezri Konsa
Asked to describe Emery in one word, John McGinn said: "Detailed."
But where does that obsession with detail come from?
"My father and grandfather were goalkeepers in Spain. At home, we were four brothers and we all played football but I was the most passionate about it. My only focus was football, football, football. I enjoyed it as a player and I enjoy it even more as a coach.
"I started thinking about coaching when I was very young. I did the courses and I was ready to start my coaching career as soon as I finished playing. More players do that now, trying to prepare before they finish their career, but that was not normal in Spain at the time.
"I was playing for a small club called Lorca on the Mediterranean coast. I replaced the coach there in the middle of the season. My team-mates became my players. I knew them perfectly, the good and the bad. I told them that. It was a very good advantage."
One wonders whether it is a peculiarly Basque trait, this obsession, given that there are four Basque managers right now in the Premier League. Not just Emery but Mikel Arteta, Julen Lopetegui and Emery's former Real Sociedad team-mate Javi Gracia.
"I do not know exactly why that is but maybe it is the football there. The Basque people, usually, are responsible and serious. That is my own character. My father was very disciplined every day in his coaching of a small team. I think I am a bit like him."
Emery claims that "in an international break, I switch off my mind" but it soon emerges that his interpretation of a day off is a little different to others. "I take one or two days to visit my family, speak with friends." But what do they speak about? Football, he concedes.
Even his lengthy answer that begins with talk of "trying to switch off" soon morphs into a monologue about his current favourite teams to watch in Europe. He name-checks two former clubs, Arsenal and Villarreal, but there are many others mentioned too.
"Of course, Arsenal are playing very well. The biggest thing is how they have created a small family with a good feeling together. They are excited by this opportunity, very committed. That is the difference. They are showing a lot of emotion with the supporters.
"But I like to follow the characteristics of many different teams. For example, now I am impressed with Brighton. There are other teams who are playing with very good ball possession, with patience as well, but Brighton are an example I like a lot.
"In Spain, there is a team in the second division, Andorra. I have been following them." They have had 68 per cent of possession this season. "Villarreal are playing a way I like with the ball. Napoli are having a big impact in Europe. They are playing amazingly well."
Possession has been a focus for Villa, not just the volume of it but the manner of it. Thirty per cent more passes in their own half under Emery than under Gerrard places greater demands on the players but the new coach believes the rewards are also greater.
"You have to take risks in football. I am trying to keep possession of the ball. When we have the ball with the goalkeeper, we are starting our build-up. If he is kicking the ball long, some we will win and some we will lose. I prefer to try to keep the ball ourselves.
"The best teams play like this. I always try it with my teams. When I started with Lorca, that was my philosophy 20 years ago. Try to keep possession. If we have the ball, I feel better than being without the ball. My idea is to convince the players with results."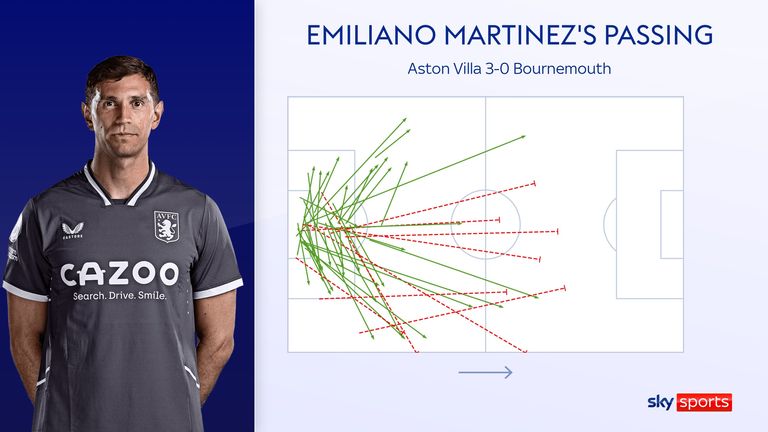 It has not been straightforward. "We made mistakes against Stevenage, Brighton and Leicester in our build-up." He acknowledges that "if they are not feeling good it is impossible" and the setbacks can be "a step back because the players will have doubts".
But when it works, Villa's players and supporters see a better way forward. They saw it for periods against Leeds and Arsenal at Villa Park, their second goal against the latter starting with Emiliano Martinez. And they saw it in beating Bournemouth last time out.
"The first step, the easiest step, is to organise defensively. That is easier than organising offensively. Trying to break the opposition lines by pressing is more difficult than to sit back. That takes time. But the team is practising, practising and practising."
That work is all Emery knows.
He concludes with a love letter to the game.
"Tactically, football is amazing. Sometimes it is simple. A player can shoot. Goal. Simple. But to work with the team, to do combinations, that is the difficult bit. To create one team with good spirit, everybody combining with everyone else, that is a lot of work.
"One coach I had once told me that the pitch is very big so there are a lot of ways to win, left or right, deep or high. And you are not doing it with the hands like in handball or basketball, you are doing it with your feet. That is not so easy to control.
"It really is an amazing game."
For Emery, from boy to man, player to coach, the obsession endures.
Watch Chelsea vs Aston Villa live on Saturday Night Football on Sky Sports Premier League from 5pm; kick-off 5.30pm
This content was originally published here.